CapScribe 2's First Public Beta Is Coming
CapScribe 2 is a new captioning and video description editor, based on the original CapScribe Editor, now re-imagined and expanded. It is designed to an easy-to-use tool for creating web-based non-commercial and non-broadcast videos. CapScribe 2 will work on Macintosh and Windows. We are anticipating that the public beta will be available later this summer.
Help Us Test CapScribe 2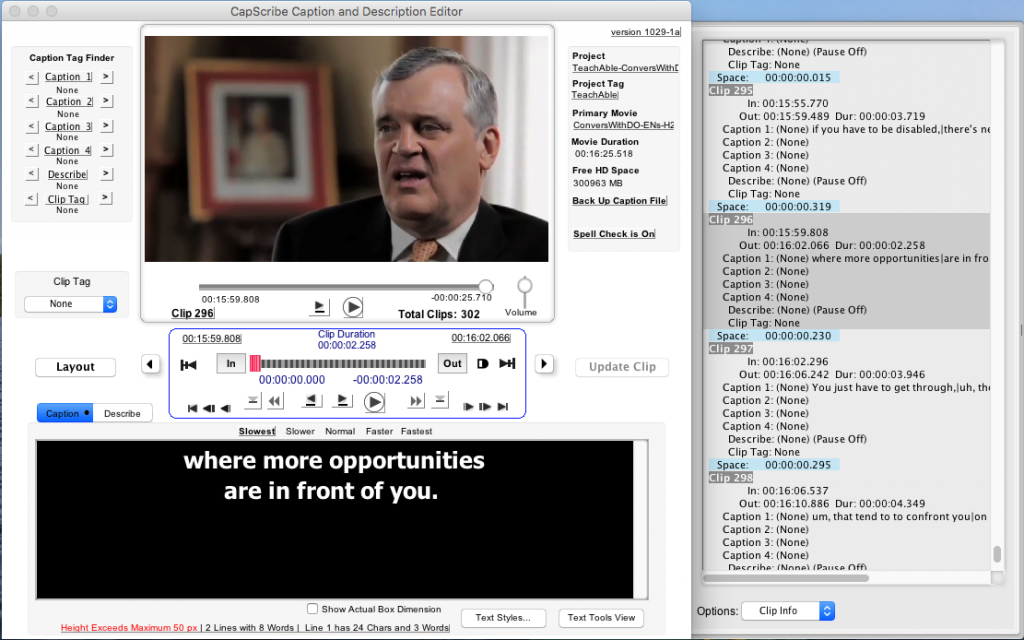 If you would like to test the beta version of CapScribe 2 when it becomes available, or just have questions, please contact us.
Did you use the original CapScribe software created for Macintosh? We'd love to hear from you!
Making Iconic Moments Accessible
Working with a late alpha version of CapScribe 2, we had a great time captioning Martin Luther King's "I Have a Dream" speech which took place at the historic March on Washington, August 28, 1963. The speech is at once historic and so timely.
CapScribe 2 Features
– Easy to set up and use, offering users precise control over the creation of each caption or description.
– A simple interface and workflow lets users quickly move through their video projects, easily making adjustments and switching between captioning and adding video description.
– The video description component includes synthetic voice (text-to-speech) options in addition to a live recording feature.
– We are exploring the integration of automated speech-to-text services as an adjunct to manual caption writing.
– CapScribe 2 is designed to be screen reader friendly. This work is just beginning. Our long term goal is to assure that CapScribe 2 screen reader navigation and tools are intuitive and quick to access.
– CapScribe 2 is now multi-platform, available for Windows as well as Macintosh, and later expanding to additional platforms.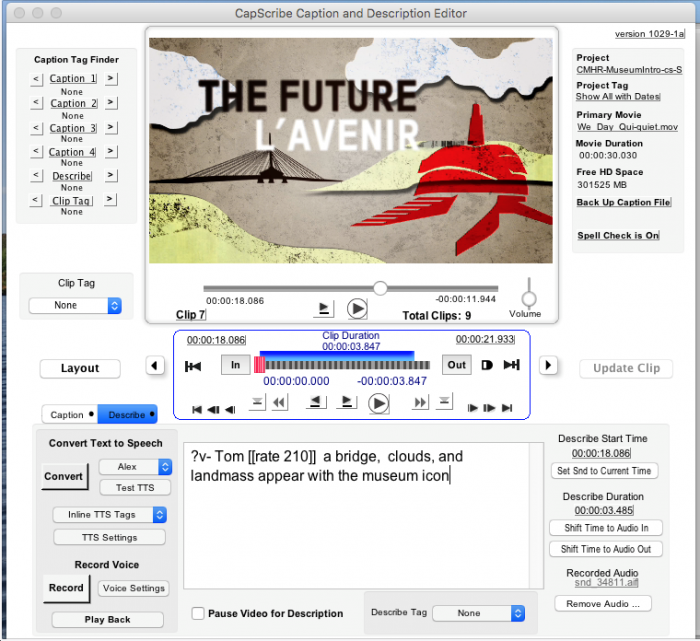 Who We Are
Inclusive Media and Design and Charles Silverman have been evolving CapScribe for years. We are thrilled to be working with The Accessible Media Production Graduate Certificate Program and students at Mohawk College as we build a more powerful editor for the creation of inclusive and accessible media.
Many thanks to Broadcasting Accessibility Fund (BAF) for all their support and funding, without which CapScribe 2 would not be possible!